The Cuban Society of Neurology and Neurosurgery and the Organizing Committee of the event have the pleasure of inviting you to the International Congress "Neurocuba 2013″, to be held in Tryp Havana Libre Hotel, Cuba, on April 24 to 26, 2013. This is the second edition of the congress which will be organized every four years under the name of Neurocuba and it is intended to meet  professionals in the fields of Neurology, Neurosurgery, Neuronursing and other specialties in order to exchange experiences and to develop these specialties.
In this opportunity, we will include the 1st edition of the Congress about History of Neurosciences (Neurohistoria 2013) and the V International Symposium of Hereditary Ataxias. On April 22 and 23, we will have pre congress courses to share developments on different related fields. We would be very pleased if we could  share our experiences with well known foreign personalities.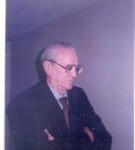 Our event will be dedicated to the 100th birthday of the outstanding Professor Joaquin Pascual Gispert, who was pioneer of the Pediatric Neurology in our country.
Our Organizing Committee hopes you will enjoy the beauty of our country and our hospitality
You are all welcome!
Ramiro Jorge García MD, PhD Chairman of NEUROCUBA 2013 Organizing Committee