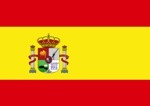 Dear friends and colleagues,
The Cuban Society of Allergy, Asthma and Clinical Immunology and its national group invite you all to attend the 3rd Ibero-American Meeting  and  7th National Congress of Allergy to be held at Riviera Hotel in Havana, Cuba, from 5th to 8th June, 2012.
This is a perfect opportunity to exchange ideas and experiences on the highest academic level among professionals in this field and other related specialities that will raise quality in assistance, teaching and research. Also the most recent advances in this field of science will be shown .
We are convinced that these days will develop in an atmosphere of cordiality and fraternity. Here you can enjoy your visit to this town and to know about the wonderful Cuban people, which will always provide a warm welcome and promises of a happy stay in our country.
Organizing Committee
CubaAlergia 2012